Proposal Builder
Develop a large proposal.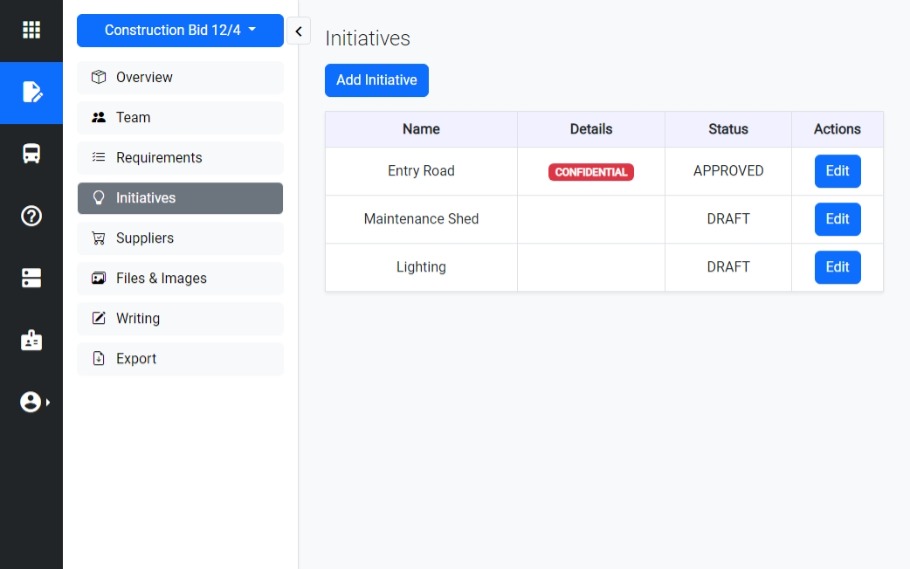 Put together a proposal now, for free!
Use the software now to see how it can help your business. All without any commitment.
Requirements
Add, manage, and track client requirements from start to finish. Easily ensure that all requirements have been met.
Initiatives
Turn requirements into initiatives. Then manage each initiative with budget lines, risks, assumptions, and suppliers.
Writing
Collaboratively write the proposal document linking each paragraph to an associated intiative, with a simple editing approval process.
Budget
Add budget line items to each initiative. Export the budget model to get a clean output of the proposal budget.
Risks
Add risks to each intiative. Associate budgets to risks to improve risk cost projections.
Assumption
Create, link and collate assumptions.
Plus Subscription & Pricing
Work on proposals with up to two other collaborators per proposal. This is a great way to freely ensure the solution is right for you. Additional users will require a subscription. Please see the Plus Subscriptions page for more information.